Webinar
Overcoming Embedded GUI Development Hurdles that Impact Time to Market with STM32 Devices and Storyboard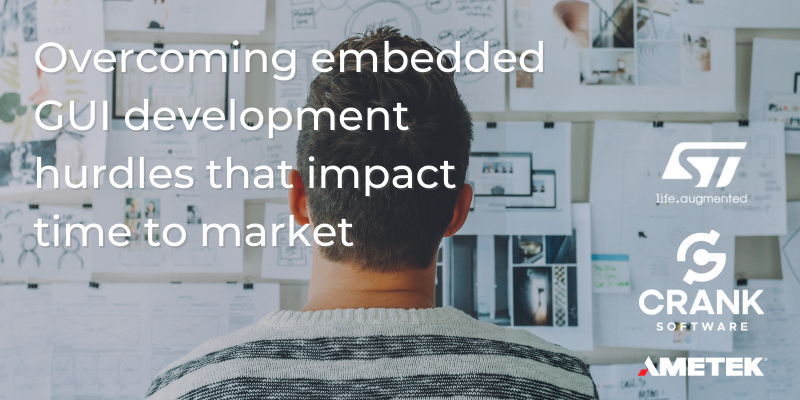 In a race to get to market quickly, project teams often must explore and make many fundamental decisions early in the development process. While this can help get things moving quickly, these choices can often impact the product and undermine its success.


Historically, changes in technology meant having to throw away countless hours of coding, while changes at the design level resulted in teams needing to hunt for and replace all changed assets manually. All resulting in valuable time being wasted which creates delays in getting to market on time.

Join STMicroelectronics and Crank Software to learn which STM32 hardware is best for your next project and how Storyboard helps transform development teams into agile UI/UX powerhouses, enabling project teams to develop an exceptional product on time.
During this session, you'll learn:
Which STM32 hardware is right for your GUI implementation
How Storyboard enables you to leverage ST's MCU and MPU products
Why Storyboard's Rapid Design and Iteration technology makes it easy to embraces UI design changes at any stage during development
How easy it is to develop GUI apps via a live demo of a Storyboard
Featured speakers:
Roman Ludin - Field Application Engineer, STMicroelectronics
Nik Schultz - Field Application Engineer, Crank Software
Scott Snider - Product Marketing Manager, Crank Software
Length: 1H 16M
Watch the on-demand webinar
Featured resources
Storyboard 7.0: Powering sophisticated embedded GUIs
Check out our latest features designed to help you build richer, more effective GUI applications.
Sample Storyboard on the NXP i.MX RT500
Download the sample touch screens created in Storyboard for the i.MX RT500 today.
Building a killer embedded UI
Download this guide to creating high-volume, high-margin goods on MCUs with fancy UIs.