Webinar
Powering sophisticated embedded GUI development
with Storyboard 7.0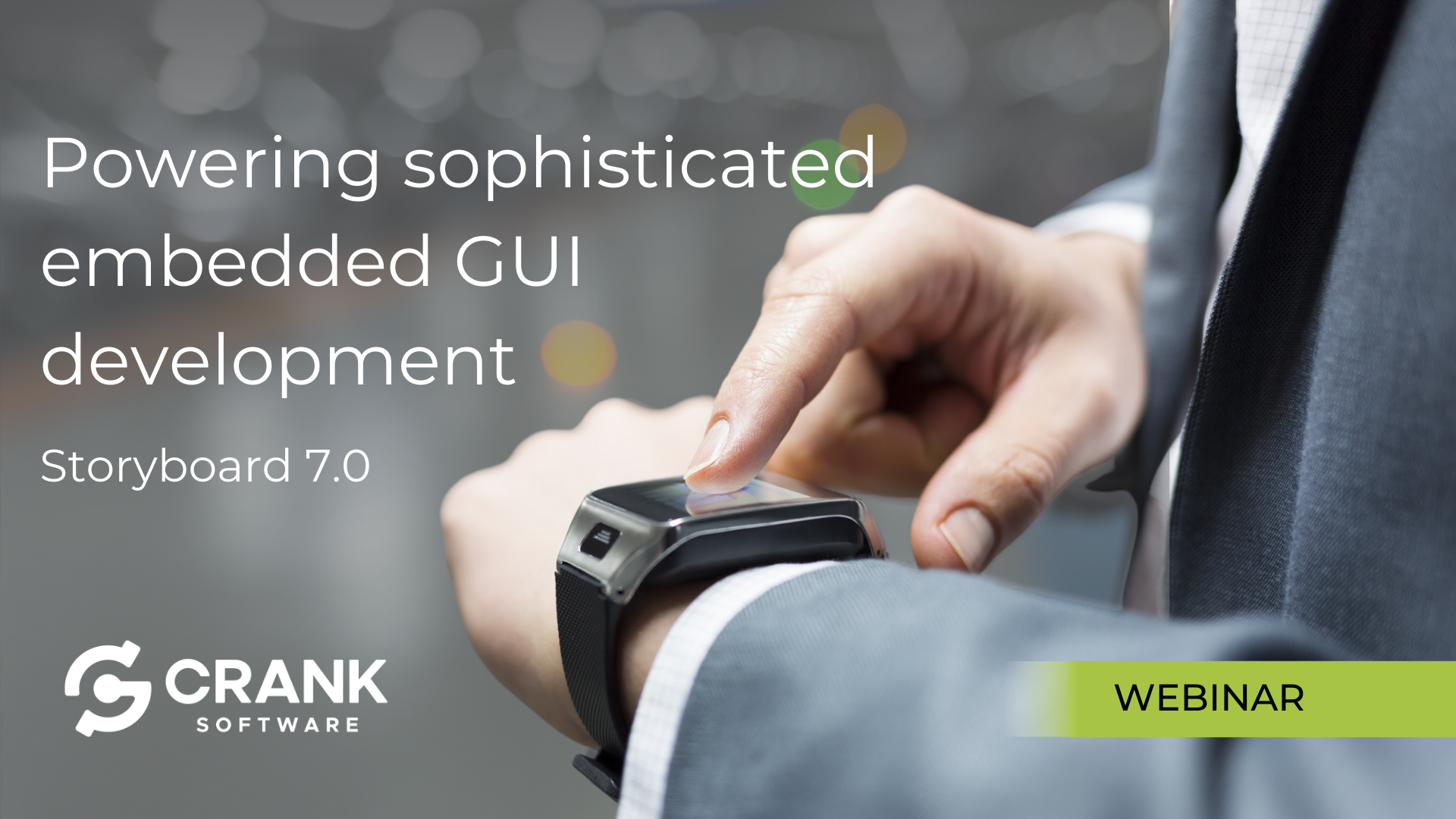 Join Crank Software's Lead Product Architect, Rodney Dowdall, as he demonstrates all the great new enhancements introduced within Storyboard 7.0.
---
With an increased focus on creating smaller, yet powerful embedded devices, the ability to develop rich engaging experiences that enable users to do more on tightly-resourced hardware can be challenging.
Storyboard helps embedded teams overcome this challenge by enabling the development of sophisticated, power-efficient GUI applications, such as those found in the lifestyle-driven wearable device market.
With several key enhancements including the introduction of automatic table looping removing the need to have to manually write code to do it, screen transitioning via a screen drag for control of when and how screens are transitioned to, gradients not tied to a canvas making it possible to rendered on MCU platforms, and imported SVG files rasterized on export to reduce performance requirements during runtime, Storyboard makes it even easier to power sophisticated, yet tightly-resourced GUIs that are ideal for power-efficient hardware.
In this video, you get to see this and many other new enhancements in action. Join us to learn how Storyboard 7.0 can assist you:
Create distinctive GUI applications that today's modern consumer craves
Speed up GUI application development with support for design-friendly formats, such as SVG
Import high-fidelity Sketch designs at a click of a button within the Storyboard environment
Develop and rich user interfaces for power-efficient MCU devices


Your storyboard experts
Rodney Dowdall, Storyboard Lead Product Architect, Crank Software
Scott Snider, Product Marketing Manager
Watch the on-demand video
Featured resources
Storyboard 7.0: Powering sophisticated embedded GUIs
Check out our latest features designed to help you build richer, more effective GUI applications.
Sample Storyboard on the i.MX 8M
Download the sample touch screens created in Storyboard for the i.MX 8M.
Building a killer embedded UI
Download this guide to creating high-volume, high-margin goods on MCUs with fancy UIs.