Webinar
How to maximize scalability, performance, & usability of embedded devices with Renesas and Crank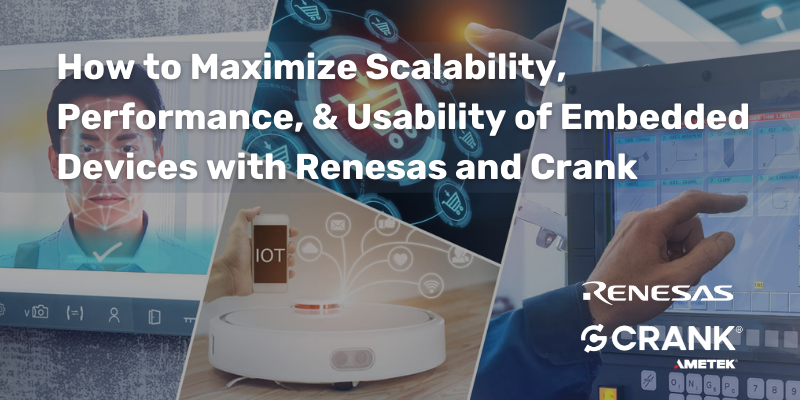 As technology advances, so do the expectations that users have with the products you develop.
So, the question you need to ask yourself is your system architected to adapt to technological changes? Are you able to cost-effectively introduce a new product line with a similar experience? Can you easily alter the user experience without having to completely overhaul the application code?

If you design embedded products from the very beginning with scalability in mind, you'll be able to move from powerful, high-end silicon to a lower-priced variant, or switch to new hardware with ease when the time is right or to address evolving market expectations.

Join global embedded hardware leaders Renesas and the embedded GUI experts from Crank as we explore how you can make your embedded products more adaptable to changes in design.

During this session, you'll learn:
Featured Speakers:
TJ Mueller - Product Marketing and Business Development Manager, Renesas
Rodney Dowdall - Manager of Product Development, Crank
Scott Snider - Product Marketing Manager, Crank
Register to watch webinar
Featured resources
Storyboard 7.0: Powering sophisticated embedded GUIs
Check out our latest features designed to help you build richer, more effective GUI applications.
Sample Storyboard on the NXP i.MX RT500
Download the sample touch screens created in Storyboard for the i.MX RT500 today.
Building a killer embedded UI
Download this guide to creating high-volume, high-margin goods on MCUs with fancy UIs.