Webinar
Future-proofing embedded products to hardware and UX design changes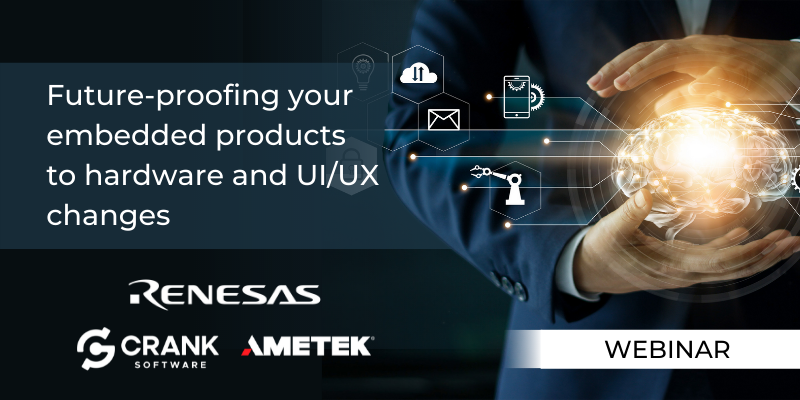 Whether it's the need for a breadth of appropriate peripherals, greater processing power, or enhanced user experiences, embedded product expectations are constantly evolving.


So, what is the secret to developing devices that can evolve when needed without causing a complete teardown or rewrite of code?
Join global embedded hardware leader Renesas and the embedded GUI experts from Crank Software as we explore how you can make your next embedded product more adaptable to changes in design.

During this session, you'll learn:
How Renesas' latest 64-bit general-purpose MPUs- RZ/G2L series can enhance your embedded products
Why PMICs (Power Management ICs) help provide a complete solution
Why Storyboard's unique architecture makes changes to the technology stack possible
How Storyboard's Rapid Design and Iteration technology embraces UI design changes during development
How easy it is to develop GUI apps via a live demo of a Storyboard
Featured Speakers:
TJ Mueller - Product Marketing and Business Development Manager, Renesas
Nik Schultz - Field Application Engineer, Crank Software
Scott Snider - Product Marketing Manager, Crank Software
Watch the on-demand webinar
Featured resources
Storyboard 7.0: Powering sophisticated embedded GUIs
Check out our latest features designed to help you build richer, more effective GUI applications.
Sample Storyboard on the NXP i.MX RT500
Download the sample touch screens created in Storyboard for the i.MX RT500 today.
Building a killer embedded UI
Download this guide to creating high-volume, high-margin goods on MCUs with fancy UIs.