Webinar
Creating engaging IoT experiences without shattering your budget with Storyboard and NXP's i.MX RT1170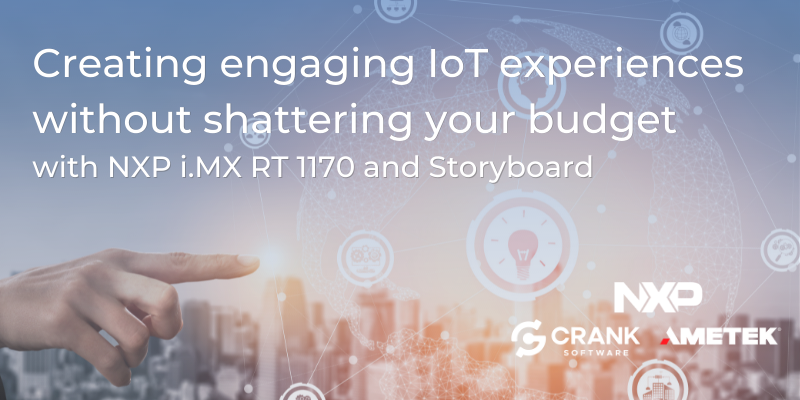 From consumer to industrial devices, a paradigm shift has already begun.


Our everyday experiences with smartphones are driving the demand for higher performance, more connectivity, and an exceptional user experience as the cornerstones of the embedded products we use.
But how can you make it easier to take your product to the next level?

Traditionally, this would have meant utilizing powerful MPU hardware but since the introduction of NXP's crossover MCUs, this is no longer the case. With a powerful 1GHz core, support for a wide temperature range, and best in class security the NXP i.MX RT1170 MCU combined with an engaging UX built using Crank Software's Storyboard, you can level up your next embedded project.

Join NXP and Crank Software to learn why the NXP I.MX RT1170 crossover MCU is the right embedded hardware to create and can help lower development risks and how developing engaging user experiences can easily become part of your development workflow.

During this session, you'll learn:
About optimizing power and performance with i.MX RT [1170] Crossover MCUs
Just how embedded GUI development can be a collaborative experience between development and design
How Storyboard's Rapid Design and Iteration technology embraces UI design changes during development
What integrated capabilities can help leverage the hardware's full potential
How easy it is to develop GUI apps via a live demo of a Storyboard
Featured speakers:
Patrick Kennedy -

IoT Mass Market Engineer

, NXP Semiconductors
Nik Schultz - Field Application Engineer, Crank Software
Scott Snider - Product Marketing Manager, Crank Software
Watch the on-demand webinar
Featured resources
Storyboard 7.0: Powering sophisticated embedded GUIs
Check out our latest features designed to help you build richer, more effective GUI applications.
Sample Storyboard on the NXP i.MX RT500
Download the sample touch screens created in Storyboard for the i.MX RT500 today.
Building a killer embedded UI
Download this guide to creating high-volume, high-margin goods on MCUs with fancy UIs.