Expert Panel Discussion
Industry 4.0: Building Embedded Products for Today's Industrial Markets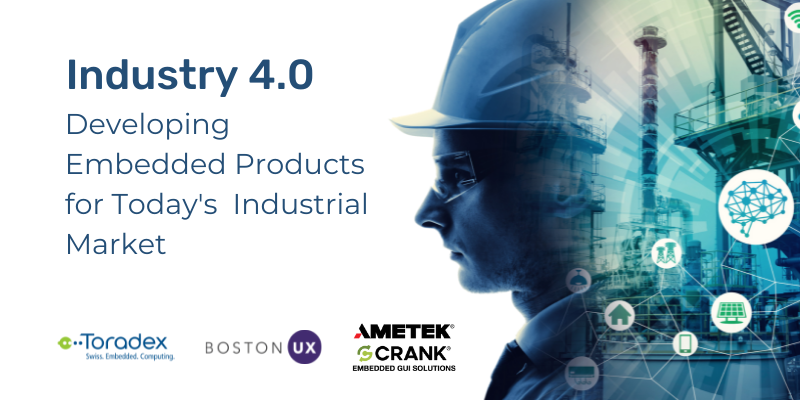 There has been an evolution occurring in manufacturing, one that focuses on the interconnectivity of industrial systems called Industry 4.0


Industry 4.0 is marrying industrial automation with smart technology, artificial intelligence (AI), and modernized human-machine interfaces (HMI) to create a better-connected and more optimized ecosystem for conducting business.

While this real-time data empowers businesses to leverage real-time data to boost productivity and improve processes, there is evidence that if done wrong the technologies that create the foundation for Industry 4.0 can fail to address the needs of businesses.

Join Toradex, Boston UX, and AMETEK Crank for this one-hour panel discussion to learn what challenges should be considered by embedded developers looking to create devices targeted at Industry 4.0 and the best practices for creating secure, user-friendly graphical user interfaces from the operating system on up for a future where smart machines are integrated into business processes.
During this session, you'll learn:
What is Industry 4.0 and who is it right for?
Why is a modernized HMI application vital for Industry 4.0?
What methods are there for introducing system updates or upgrades (OTA)?
How can it be applied to your business?
Featured speakers:
Matthew Ellis - Senior Software Architect, Boston UX

Boris Savic - Associate Director of UX, Boston UX

Daniel Lang - CMO, Toradex

Thomas Fletcher - Co-founder/VP of Innovation, AMETEK Crank
Featured resources
Storyboard 7.0: Powering sophisticated embedded GUIs
Check out our latest features designed to help you build richer, more effective GUI applications.
Sample Storyboard on the NXP i.MX RT500
Download the sample touch screens created in Storyboard for the i.MX RT500 today.
Building a killer embedded UI
Download this guide to creating high-volume, high-margin goods on MCUs with fancy UIs.