Webinar
Unleash the potential of your embedded GUI application experiences
with Storyboard 8.0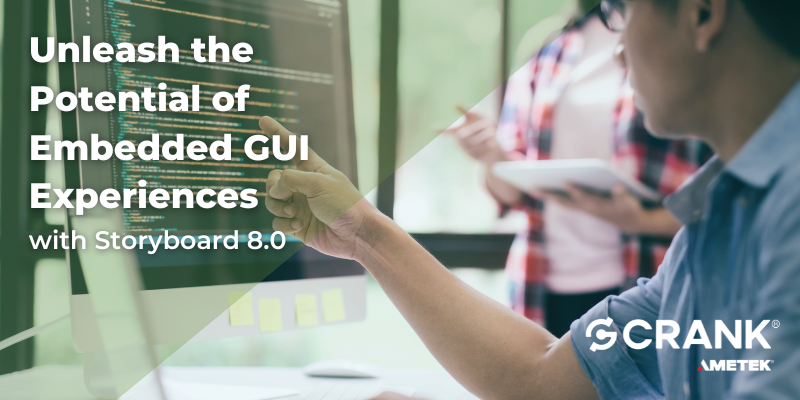 Join Crank AMETEK's Lead Product Architect, Mike Marchand, as he demonstrates the key enhancements being introduced with Storyboard 8.0
---
The graphical user interface (GUI) is one of the most critical components of any embedded device. For it is the first thing users see and the main point of interaction with your product. Therefore, making sure it provides an exceptional user experience and performs as intended is an essential part of the development process.
To make it easier for our customers, Crank has enhanced Storyboard with many new features and functions that make it easier to develop, test, and deploy embedded GUI applications that provide exceptional GUI experiences. Join us to learn how Storyboard 8.0 and our new automated testing framework, Validator, can help you unleash the potential of your embedded GUI experiences.
During this webinar, you will learn about:
Storyboard's new streamlined Designer workflow and how it can help accelerate your GUI development
The introduction of support for a new scripting language (in addition to Lua scripting), expanding your ability to attach actions and events to design assets
How easy it can be to create and execute tests across MPU devices using Validator, ensuring that your GUI application functions as intended
How you can save time (and money) by creating reusable tests that can be used to test new features and future enhancements made to the embedded GUI application
Your storyboard experts
Mike Marchand, Storyboard Lead Product Architect
Scott Snider, Product Marketing Manager


Featured resources
Storyboard 7.0: Powering sophisticated embedded GUIs
Check out our latest features designed to help you build richer, more effective GUI applications.
Sample Storyboard on your embedded hardware
Download the sample touch screens created in Storyboard for your chosen hardware.
Building a killer embedded UI
Download this guide to creating high-volume, high-margin goods on MCUs with fancy UIs.