Webinar
Creating the IoT Devices of Tomorrow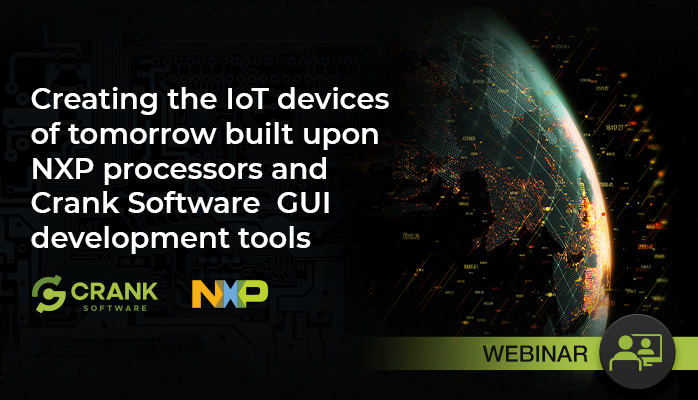 Rapidly changing technology has a way of sneaking up on us, and if we aren't prepared to take advantage of those changes, companies will be left behind. This truth is becoming evident in the world of embedded graphics.
---
The IoT industry is constantly driving the demand for higher performance and lower power processors, with rich graphics as a cornerstone of an exceptional user experience. These technologies are now becoming available in low-power embedded processors from NXP Semiconductors. 2.5D GPUs with complex display controllers that can drive MIPI DSI displays are now available with the i.MX RT crossover MCU portfolio from NXP.
In this joint webinar, we'll discuss the architectures and technology advancements driving the integration of graphics hardware into embedded real-time processors, along with the advantages they have over pure software graphics, which include low power consumption, significant improvement in CPU utilization, high frame rates, and complex graphics constructs. During it, we will investigate how GPUs and display controllers provide a toolbox to the graphics designer that was not available in the past and how Crank Software removes the complexity of creating rich GUI experiences while helping take advantage of all the capabilities found within the NXP hardware.
During the session, you will learn about:
What opportunities exist within the market and the stumbling blocks for the successful development
How user experience (UX) can help grab market attention and win market share
Architectures of GPU based microcontrollers
What the hardware impacts are on rendering performance (CPU vs GPU)
Power consumption advantages GPU's have over CPU only graphics
Key GUI development capabilities that help maximize resources found within NXP embedded systems
How Storyboard's performance data logs can provide valuable insight into design elements that might not be performing as expected


Your panel of experts
Rob Cosaro - IoT Technology Officer, NXP Semiconductors
Jason Clarke - (Co-founder) VP of Marketing/Sales, Crank Software
Scott Snider - Product Marketing Manager, Crank Software
Watch the on-demand webinar
Featured resources
Storyboard 7.0: Powering sophisticated embedded GUIs
Check out our latest features designed to help you build richer, more effective GUI applications.
Sample Storyboard on the i.MX 8M
Download the sample touch screens created in Storyboard for the i.MX 8M.
Building a killer embedded UI
Download this guide to creating high-volume, high-margin goods on MCUs with fancy UIs.