Webinar
How performance analysis assists with developing extraordinary user experiences on the STM32MP1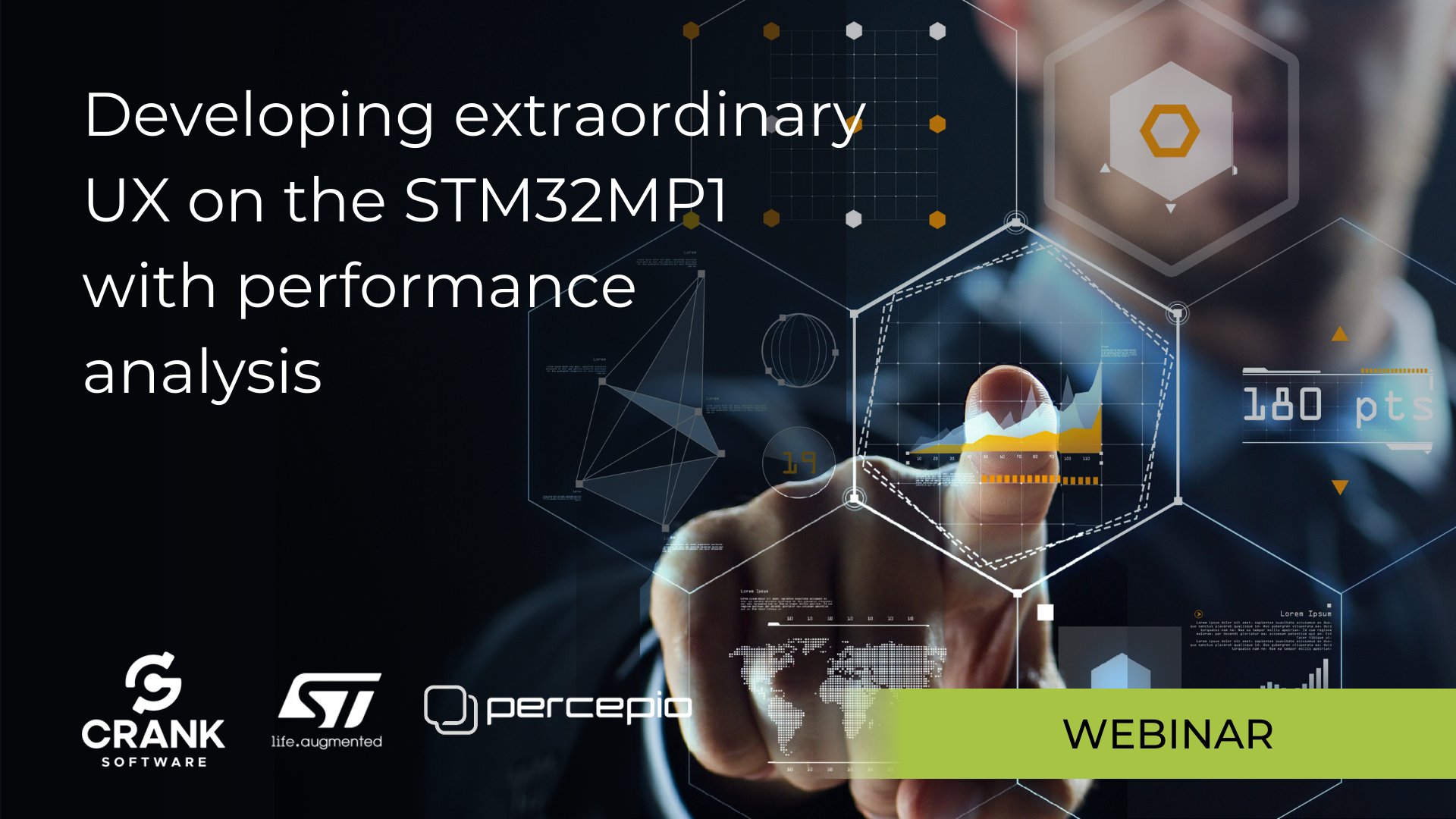 Whether it's to minimize computational power, improve the device's output or keep the GUI from freezing or crashing, debugging embedded software can be a challenging and time-consuming step in the process of developing embedded devices.
---
With a multitude of combinations of inputs, outputs, and timings in a Linux-based system this is where leveraging intuitive trace analysis tools can help save on time and headaches.
Join STMicroelectronics, Percepio, and Crank Software to learn how to ensure that your GUI performs as expected on the STM32MP1, raising the user experience bar for your embedded product.
In this session, we demonstrate how Crank Software's GUI development tool, Storyboard, along with Percepio's Tracealyzer can provide a rich set of high-level overviews for top-down exploratory analysis, including process interactions, parent/child process dependencies, state machines, CPU usage, and more.
In this webinar, you will learn how to:
Leverage Storyboard's embedded tools to optimize your GUI application
Use Percepio Tracealyzer for analysis of Storyboard GUI applications
Benefit from visual trace diagnostics for system-level performance analysis
Your panel of experts
Kristoffer Martinsson - Field Application Engineer, Percepio
Mike Hartmann - Product Marketing, STMicroelectronics
Garry Clarkson - Field Application Engineer, Crank Software
Scott Snider, Product Marketing Manager
---
Length: 1H 16M
Watch the on-demand webinar
Featured resources
Storyboard 7.0: Powering sophisticated embedded GUIs
Check out our latest features designed to help you build richer, more effective GUI applications.
Sample Storyboard on the i.MX 8M
Download the sample touch screens created in Storyboard for the i.MX 8M.
Building a killer embedded UI
Download this guide to creating high-volume, high-margin goods on MCUs with fancy UIs.