Webinar
Bringing UIs to life with Crank Software and Toradex on the NXP i.MX 7.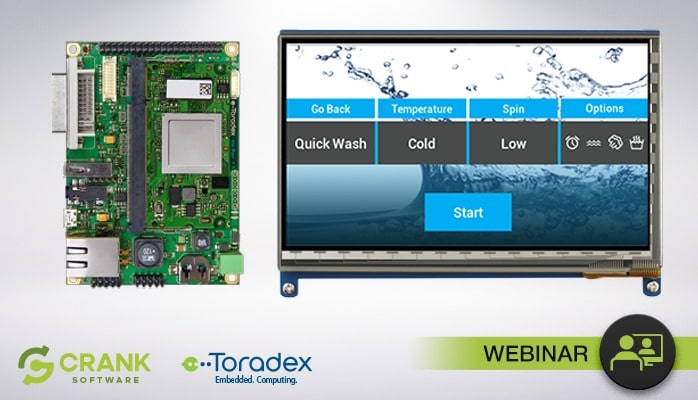 ---
In this joint webinar by Crank Software and Toradex, you will learn how to develop beautiful applications using the latest functionality in Crank Storyboard on Toradex Modules.
Crank Software will share features in Storyboard that support ease-of-use for designers and help simplify the challenge of inevitable design churn and iteration. Learn how to deploy and debug your solution on real embedded hardware.
We will demonstrate how to create a modern user interface even on low power SoCs without 3D GPUs like the i.MX 7 from NXP®. Are you looking for UIs with complex effects and high-end graphics? Experience how such complex UIs perform on System on Modules (SoMs) featuring the i.MX 6 with OpenGL ES support. The pin-compatible Colibri modules allow you to rapidly test different solutions and compare the performance in a simple way.
Using the combination of Toradex's ready-to-use industry-proven SoMs and Storyboard's design-centric and powerful UI development framework, teams can deliver products to market quickly without having to compromise on design or performance.
Join this session to:
learn how Crank Storyboard differs from traditional UI design and development methodologies

see a live demo of the Storyboard design environment and deployment of an application to a Toradex platform

experience the advantage of pin-compatible SoMs
---
Watch the on-demand webinar
Featured resources
Storyboard 7.0: Powering sophisticated embedded GUIs
Check out our latest features designed to help you build richer, more effective GUI applications.
Sample Storyboard on the i.MX 8M
Download the sample touch screens created in Storyboard for the i.MX 8M.
Building a killer embedded UI
Download this guide to creating high-volume, high-margin goods on MCUs with fancy UIs.