Webinar
Achieving Exceptional Graphics for IoT Devices with the NXP i.MX 8M Nano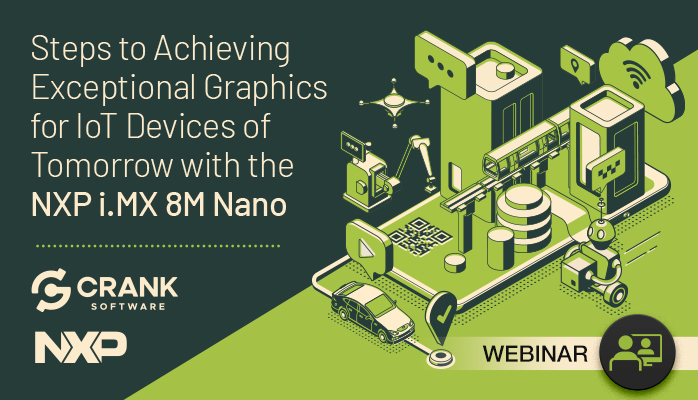 The writing on the wall is clear. The considerable growth and massive investment in smart devices combined with the promise of AI and ML has opened new vistas for IOT-led innovation. Thanks to processors such as those in the NXP i.MX 8M family of applications processors, and advancements in HMI technology expedited by embedded graphics tools such as Crank Software's Storyboard, consumers have plenty to get excited about when it comes to connected devices.

---

For the past 25 years, NXP Gold partner Crank Software has been leading the embedded HMI software and solutions market with their HMI development tool, Storyboard. Relied upon by companies like Coca Cola and GE Appliances, Storyboard-created HMIs are incredibly flexible, scaling easily from MCU to MPU, and moving to different platforms when required.
With the release of the NXP i.MX 8M Nano applications processor, manufacturers of smart connected devices can now easily create high-performance graphics on targets at a far accelerated pace, that are power-efficient and cost-optimized.
In this webinar, code along on your NXP evaluation board and downloadable trial of Storyboard, and learn:
The opportunity available for connected device manufacturers with the i.MX 8M Nano applications processor
Step-by-step demo of installing Storyboard and importing HMI design files
How to create your first HMI application, deploy and debug directly on an end-target
Learn about how you can benefit from the Crank Software and the NXP partnership
Live Q&A on licensing, configuration, and technical questions with our engineering panel
Watch the on-demand webinar
Featured resources
Storyboard 7.0: Powering sophisticated embedded GUIs
Check out our latest features designed to help you build richer, more effective GUI applications.
Sample Storyboard on the i.MX 8M
Download the sample touch screens created in Storyboard for the i.MX 8M.
Building a killer embedded UI
Download this guide to creating high-volume, high-margin goods on MCUs with fancy UIs.