On-demand Webinar
Modernizing embedded graphics for ultra-low power (yet brilliant) UIs
Co-presented by Crank Software and NXP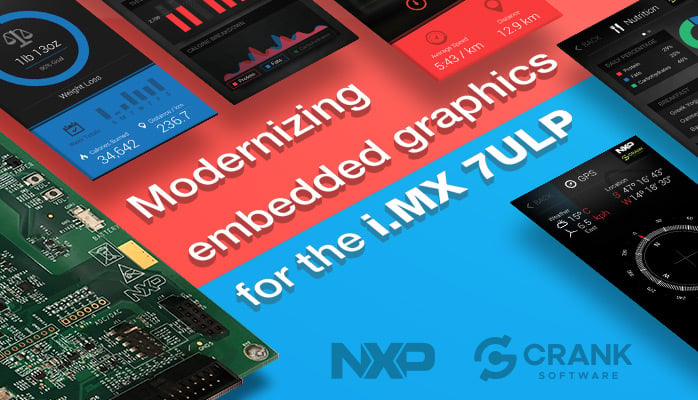 ---
Curious how to build fancy UIs on ultra-low power processors? In this webinar, learn how to leverage hybrid rendering for 2D/3D graphics on the 7ULP and achieve modern graphics capabilities at extremely low power.
The pervasiveness of the smartphone has set a new expectation for electronic devices in terms of the user experience. And while some products have been able to quickly adopt these richer graphics capabilities, others find themselves restricted by the required battery-life of the device. Fancy UIs and touchscreen capabilities historically have demanded high performance and power consumption.
Fortunately, this is no longer the case! The new NXP's i.MX 7ULP applications processor, alongside Crank's Storyboard GUI design and development software, gives embedded teams the best of both worlds – rich 2D/3D performance with MCU-level low power.
Join Brian Edmond and Nik Jedrzejewski to get a technical deep dive into the i.MX 7ULP and Storyboard and learn:
the latest trends in graphics for battery-powered devices
hardware features of the i.MX 7ULP, including the Heterogeneous Domain Computing architecture
how to leverage Storyboard's hybrid rendering solution when switching between 2D and 3D graphics to minimize power consumption
---

PANELLISTS
Brian Edmond, President, Crank Software
Nik Jedrzejewski, i.MX Product Manager, NXP
Watch the on-demand webinar
Featured resources
Storyboard 7.0: Powering sophisticated embedded GUIs
Check out our latest features designed to help you build richer, more effective GUI applications.
Sample Storyboard on your embedded hardware
Download the sample touch screens created in Storyboard for your chosen hardware.
Building a killer embedded UI
Download this guide to creating high-volume, high-margin goods on MCUs with fancy UIs.