Webinar
Creating Exceptional UIs through Valuable Real-time Insight Gained from NXP, Percepio and Crank Software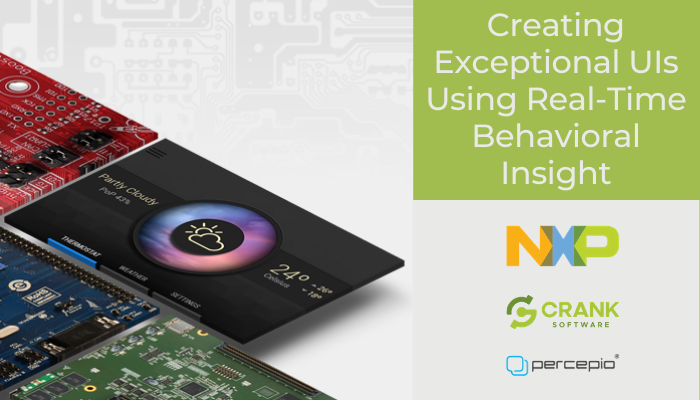 Join us for a look at how real-time insights from Storyboard and Tracealyzer can help create exceptional UIs on NXP i.MX RT series devices such as the i.MX RT1060.


---
The HMI/UI is often the most visible aspect of a system, so it's critical that it performs as expected, otherwise users will notice.

Join us for this one-hour webinar to learn how to ensure your UI performs as expected in our 'always-on world'. In this session, we will demonstrate how Crank Software's Storyboard along with Percepio's Tracealyzer can be used for common scenarios in UI performance analysis and optimization with NXP's powerful crossover MCUs.

We will start by enabling the built-in Storyboard tracing and performance metrics, provided in real-time using a common debugger and the SWO debug channel available on the NXP processor. Then we will use Percepio Tracealyzer to show the Storyboard data in the context of the full system execution. The visual trace diagnostics provided by Tracealyzer make it easy to spot any anomalies in the trace, drill down to inspect the details, and find the cause.
In this webinar you will:
What sets NXP's i.MX RT series devices apart from other processors on the market
How Storyboard differs from traditional UI development tools and can help you embrace product iteration and project scalability
How Tracealyzer greatly simplifies the analysis of application dynamics during system-level testing
Panelists
Shelby Unger, Graphics Lead, MCU Ecosystem, NXP
Johan Kraft, CEO and Founder, Percepio
Scott Snider, Product Marketing Manager, Crank Software
Garry Clarkson, Field Application Engineer, Crank Software
---
Date: June 9th, 2020 11 AM EDT
Watch the on-demand webinar
Featured resources
Storyboard 7.1: Optimizing GUI development for MCUs
Check out our latest features designed to help you build GUI applications for MCUs with less effort.
Sample Storyboard on embedded hardware
Download the sample touch screens created in Storyboard for your chosen hardware.
Building a killer embedded UI
Download this guide to creating high-volume, high-margin goods on MCUs with fancy UIs.