Webinar
UI Design and Safety in Medical Devices
How to Develop for Both in Graphical User Interfaces Designed for Medical Embedded Devices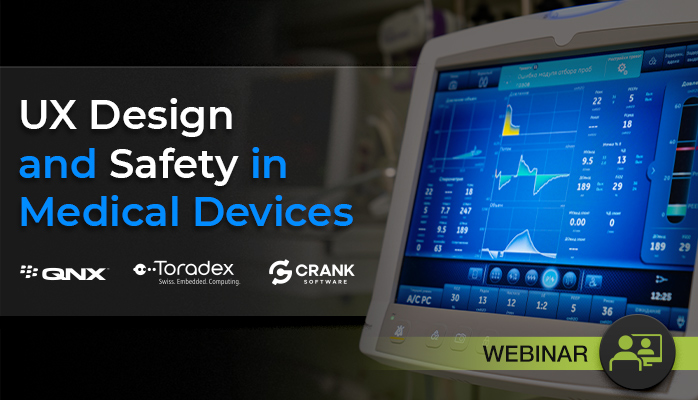 The graphical user interface (GUI) is an important element for any application but it is especially vital when the device, and its proper or improper use, impacts human life.
---
When every second counts, having an intuitive user experience that reduces human error and streamlines device use is as important as ensuring safety and security. How can developers best manage these requirements while still meeting the accelerating demands for new features?

Join us for this one-hour webinar to learn best practices for user-friendly graphical user interface (GUI) design and how to build a safe and secure device, from the operating system on up. Our panelists will share real-world use cases of medical embedded devices, using the NXP i.MX8 as a reference; however, the learnings can be applied to many applications.
In this webinar, you will learn:
Best practices for designing an intuitive GUI for safety-critical environments
How to speed development by building a software platform that is used in all products
Key take-aways from IEC 62304 and strategies to streamline your certification process
Your panel of experts
Chris Rommel - Executive Vice President, IoT & Industrial Technology, VDC Research
Stephen Olsen - Manager, Field Application Engineering, BlackBerry QNX
Daniel Lang - Chief Marketing Officer, Toradex
Jason Clarke - (Co-founder) VP of Marketing/Sales, Crank Software
Download the On-Demand webinar
Featured resources
Storyboard 7.1: Optimizing GUI development for MCUs
Check out our latest features designed to help you build GUI applications for MCUs with less effort
Sample Storyboard on the i.MX 8M
Download the sample touch screens created in Storyboard for the i.MX 8M.
Building a killer embedded UI
Download this guide to creating high-volume, high-margin goods on MCUs with fancy UIs.