Webinar
Embedded user interface design and user experience best practices.
"Hello World" for UI and UX designers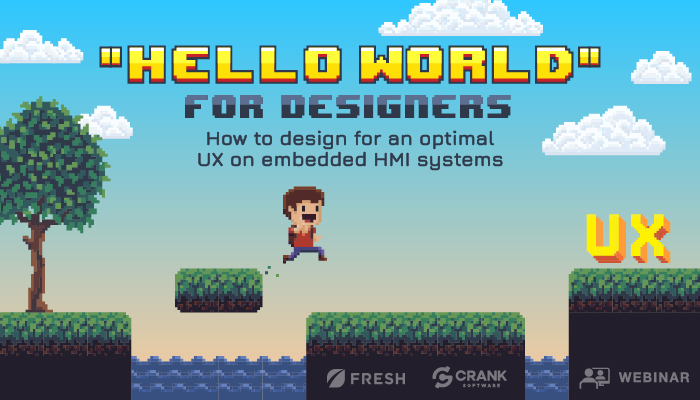 Join UX experts from Fresh Consulting and Crank Software for the latest in embedded user interface (UI) design and UX best practices to consider for your next embedded systems project. See them implemented live, and the common UI design implementation pitfalls to avoid in Storyboard.


---
Embedded graphics application design should focus on creating an experience that users remember. Without good UX, you run the risk of diminishing sales, diminishing efficiency, increasing training and development costs, and being surpassed by competitors.

If you want your embedded product to be successful and be set apart from competitors, it's important to conduct user research and invest in UX and UI design. That said, functionality should be placed front and center, as they need to be efficient and usable.

So how do you balance functionality with good design within an embedded HMI system?

For this webinar, the expert UX team at Fresh Consulting are joining forces with the embedded UI and graphics experts from Crank Software to discuss and demonstrate how to truly set your embedded application apart from the rest. By investing in the right research upfront, and establishing concrete benchmarks, you can also develop a plan for improving your application iteratively over time.

In this webinar you will:
How to get a scientific understanding of what users want and will drive their behavior
Blending functionality and emotion to make your application stand above the competition.
The dos and don'ts to consider in 2020 for UX design on embedded systems
How to facilitate smoother, more successful design handoff to development
Case study highlights from successful embedded application projects
How to translate these best practices into your embedded UI application in Storyboard (live demo)
Panelists
Daniel Conroy, Design Lead, Crank Software
Marc Wallace, Director of UX Design, Fresh Consulting
Alecia O'Brien, Director of Marketing, Crank Software
Watch the on-demand webinar
Featured resources
Storyboard 7.1: Optimizing GUI development for MCUs
Check out our latest features designed to help you build GUI applications for MCUs with less effort.
Sample Storyboard on STM32 hardware
Download the sample touch screens created in Storyboard for the ST hardware.
Building a killer embedded UI
Download this guide to creating high-volume, high-margin goods on MCUs with fancy UIs.