Webinar
Optimize your embedded UI for mass production.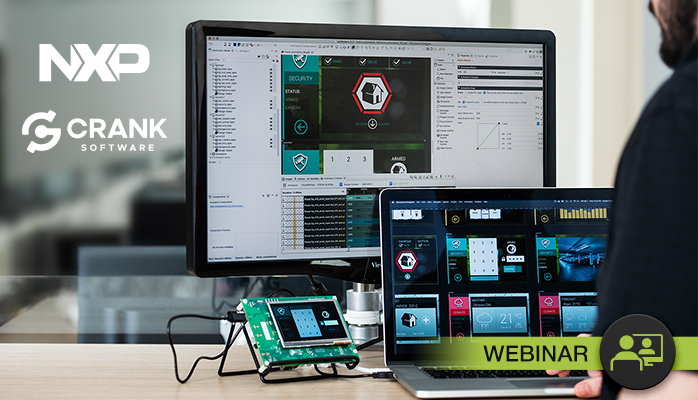 ---
How to optimize your embedded GUI for mass production.
---
No longer are rich animated user interfaces, voice control, and machine learning something that can only be done by an Application level processor (MPU). Today's new class of MCUs have more processing power, graphics acceleration, and onboard resources to enable device manufacturers to deliver the next generation of products all while getting to market faster and with a lower BOM cost.
In this webinar, you'll hear about the changes that are happening with the introduction of the new class of supercharged MCUs and the new user experience they're able to provide. Hear directly from expert panelists at NXP and Crank Software about how manufacturers can leverage this opportunity to support mass production of their products and turn them into ROI superstars. Get a sneak peek into the upcoming release of Storyboard Lite, the latest version of the popular embedded GUI design and development software purposely built to help embedded teams build optimized GUIs for this new class of MCU.
---
PANELISTS:
Mario Centeno, Global Product Manager, NXP
Brendan Slade, Director MCU Tools and Ecosystem, NXP
MODERATOR:
Jason Clarke, VP Sales and Marketing, Crank Software
Watch the on-demand webinar
Featured resources
Storyboard 7.1: Optimizing GUI development for MCUs
Check out our latest features designed to help you build GUI applications for MCUs with less effort.
Sample Storyboard on your embedded hardware
Download the sample touch screens created in Storyboard for your chosen hardware.
Building a killer embedded UI
Download this guide to creating high-volume, high-margin goods on MCUs with fancy UIs.