Webinar
How to develop high-performing HMI applications with ease for the Renesas RZ/G2L microprocessor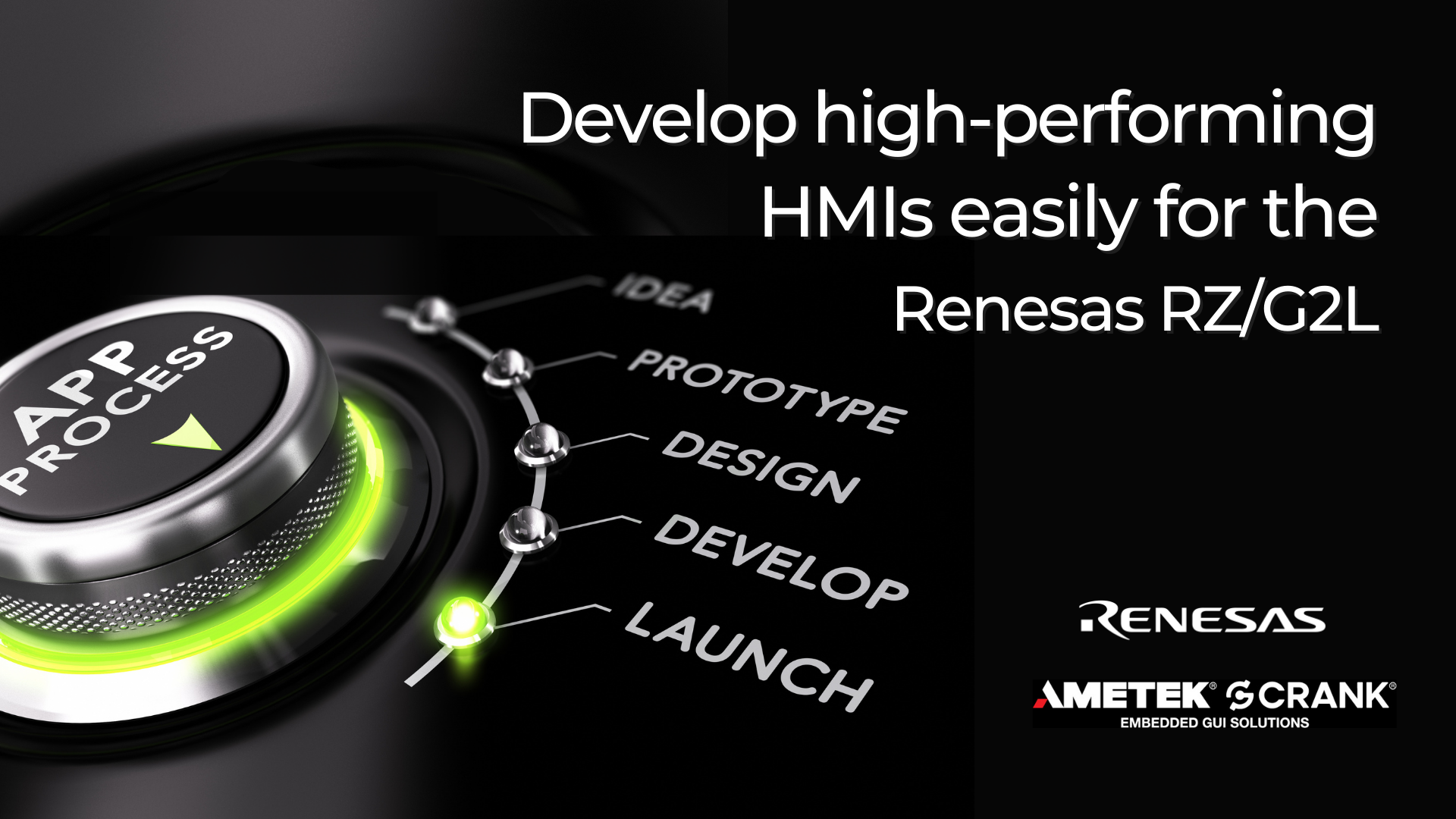 In today's market exceptional user experience (UX) can be a significant differentiating factor in Human Machine Interface (HMI) equipment.
However, the route to developing beautiful, high-performing GUI applications that consumers will love is often not a straight one. As development progresses and designs reviewed, changes to ensure products provide users with exceptional user experiences (UX) become a necessity. While this can consume time and resources or cause delays in getting to market on time, this no longer needs to be the norm in embedded GUI development
Join Renesas and AMETEK Crank as we discuss; the benefits that Renesas's new RZ/G2L chipset offers embedded developers, ways to accelerate embedded GUI development, and how the iterative UX development process can be a positive and friendly one.
During this webinar you will learn:
About a single-chip microprocessor solution for HMI development with enhanced edge AI processing performance
How to create robust, high-performing user interfaces that users crave
How easy it can be to make continuous design changes to meet evolving customer needs
See it in action via a Storyboard demo
Presenters:
TJ Mueller, Product Marketing and Business Development Manager, Renesas Electronics America
Scott Snider, Product Marketing Manager, AMETEK Crank
Nik Schultz, Field Application Engineer, AMETEK Crank
1H 10 MIN
Watch the on-demand webinar
Featured resources
Storyboard 7.1: Optimizing GUI development for MCUs
Check out our latest features designed to help you build GUI applications for MCUs with less effort.
Sample Storyboard on your embedded hardware
Download the sample touch screens created in Storyboard for your chosen hardware.
Building a killer embedded UI
Download this guide to creating high-volume, high-margin goods on MCUs with fancy UIs.