Webinar
Developing High-Performing GUI Experiences for Low Powered Microcontroller (MCU) Hardware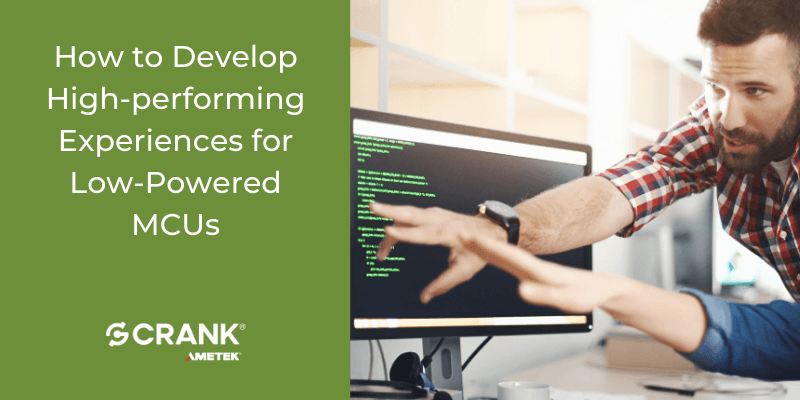 Consumers expect smartphone-like user experiences with every screen they interact with – regardless of the hardware powering it. This can present challenges for innovative embedded development teams looking to power up their UX while scaling down their hardware for energy efficiency and project cost-effectiveness.

Learn how you can start small and stay small with Crank AMETEK's, award-winning embedded GUI development tool, Storyboard.

During this session, we explore different techniques for GUI asset, memory, and resource optimization, and performance tuning for maximum experience, you will walk away with an understanding of how to achieve the same UX on an MCU as a higher-cost SKU item. These methods will help you avoid component sourcing issues and provide more flexibility in scaling to different processor families in the future.
Key takeaways from this webinar include:
What makes Storyboard different for embedded GUI development

​

Different techniques for asset, memory, and resource optimization

​

How to fine-tune GUI performance

​

Methods for building flexibility into your GUI application

​

Presenters:
Garry Clarkson - Field Application Engineer, Crank AMETEK
45 MIN
Watch the on-demand webinar
Featured resources
Storyboard 7.1: Optimizing GUI development for MCUs
Check out our latest features designed to help you build GUI applications for MCUs with less effort.
Sample Storyboard on your embedded hardware
Download the sample touch screens created in Storyboard for your chosen hardware.
Building a killer embedded UI
Download this guide to creating high-volume, high-margin goods on MCUs with fancy UIs.