Webinar
How Design States Make GUI Development Easier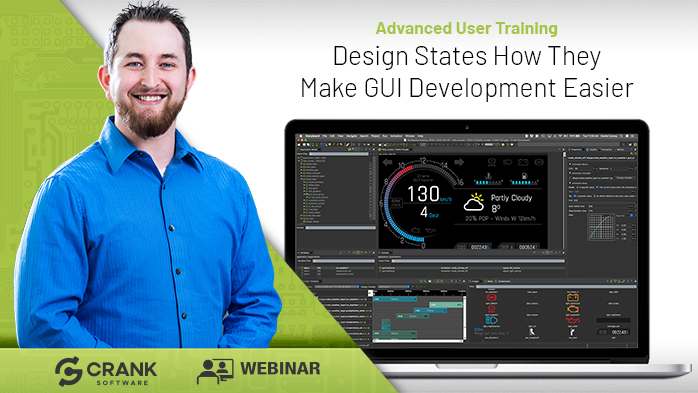 Join Mike Marchand, AMETEK Crank Software Developer, as he discusses useful techniques of using Design States when it comes to creating GUI applications.
---
As embedded devices evolve sometimes their GUI can require complex application designs. Whether it's dynamic behavior, heavy use of animations, or simply numerous screens, the depth of the application can make it a challenge to work on. In particular, when the content that needs to be worked on is not necessarily always present in the UI during development.
During this advanced Storyboard user training session, we will cover how to preview animations at a specific start state, combining animations together into a Design State, and different ways to edit GUI applications within Design States.
This webinar will cover:
How the Master Context / State Context button can help speed up the development of complex designs
How Design States make it possible to view and work with content that is not visible
Previewing animations from a different start state using Design States
Different ways content can be edited within Design States
How Animations / Design States / Named Data Changes can be converted to one and another


Your storyboard experts
Mike Marchand, Product Architect for Storyboard
Scott Snider, Product Marketing Manager
Watch the on demand webinar
Featured resources
Storyboard 7.1: Optimizing GUI development for MCUs
Check out our latest features designed to help you build GUI applications for MCUs with less effort.
Sample Storyboard on the i.MX 8M
Download the sample touch screens created in Storyboard for the i.MX 8M.
Building a killer embedded UI
Download this guide to creating high-volume, high-margin goods on MCUs with fancy UIs.