Webinar
Creating exceptional wearable UX with Storyboard and NXP's low-power i.MX RT500 MCUs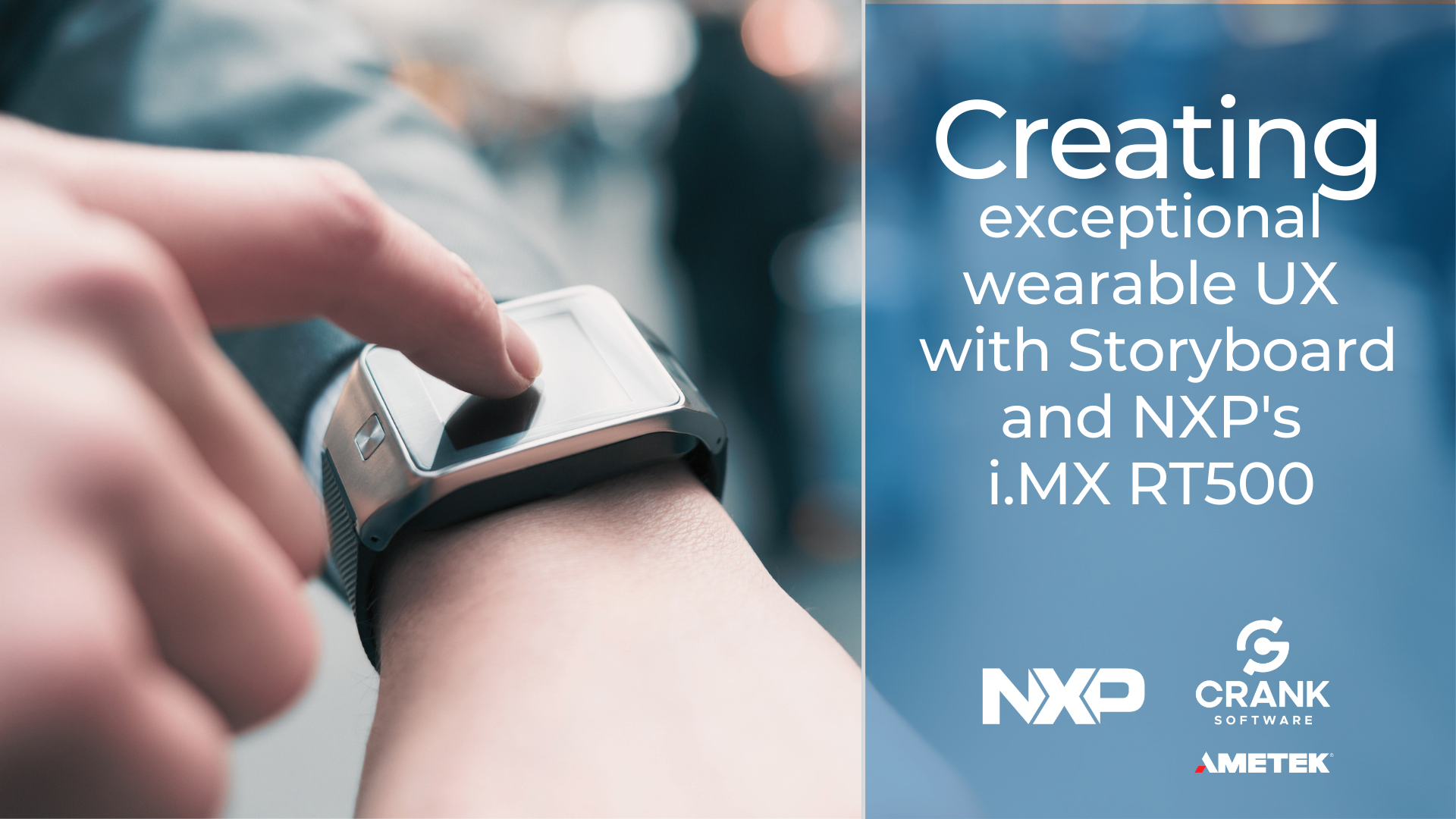 The market for wearable devices is exponentially growing, and so too are its use cases – with new emerging health and well-being applications introduced every day.


As these fitness bands, smartwatches, and other personal gadgets hit the market, the winning differentiator will be OEMs that deliver exceptional user experiences (UX) with a cost-effective bill of materials.
With the proliferation of this space, gone too is the reliance on traditional mobile operating systems and higher-end applications processors to build wearable products. No really!

Leading silicon vendor NXP® Semiconductors and embedded GUI expert Crank Software join forces to discuss how easy it can be to build a sophisticated wearable UX within a device that is powered by an MCU at its core. In this session, we'll explore how the latest NXP i.MX RT595 crossover MCU enables a smooth, rich graphical experience, as well we'll take a closer look at the intuitive GUI application development environment provided by Crank's Storyboard for building smartphone-like experiences for today's wearable devices.

During this session, you'll learn:
Understand techniques to improve UX on smaller screen sizes
Develop wearable apps that consume minimal memory and power
Evaluate hardware to best-fit performance and cost requirements
This session includes a live demo of a Storyboard wearable application running on an NXP i.MX RT 595 MCU.
Featured Speakers:
Eduardo Montanez - Marketing Manager of Wearables & Personal Devices, NXP Semiconductors
Garry Clarkson - Field Application Engineer, Crank Software
Scott Snider - Product Marketing Manager, Crank Software
Watch the on-demand webinar
Featured resources
Storyboard 7.1: Optimizing GUI development for MCUs
Check out our latest features designed to help you build GUI applications for MCUs with less effort.
Sample Storyboard on the i.MX 8M
Download the sample touch screens created in Storyboard for the i.MX 8M.
Building a killer embedded UI
Download this guide to creating high-volume, high-margin goods on MCUs with fancy UIs.