Webinar
Create Rich UIs with Storyboard on NXP i.MX 8QuadMax with Torizon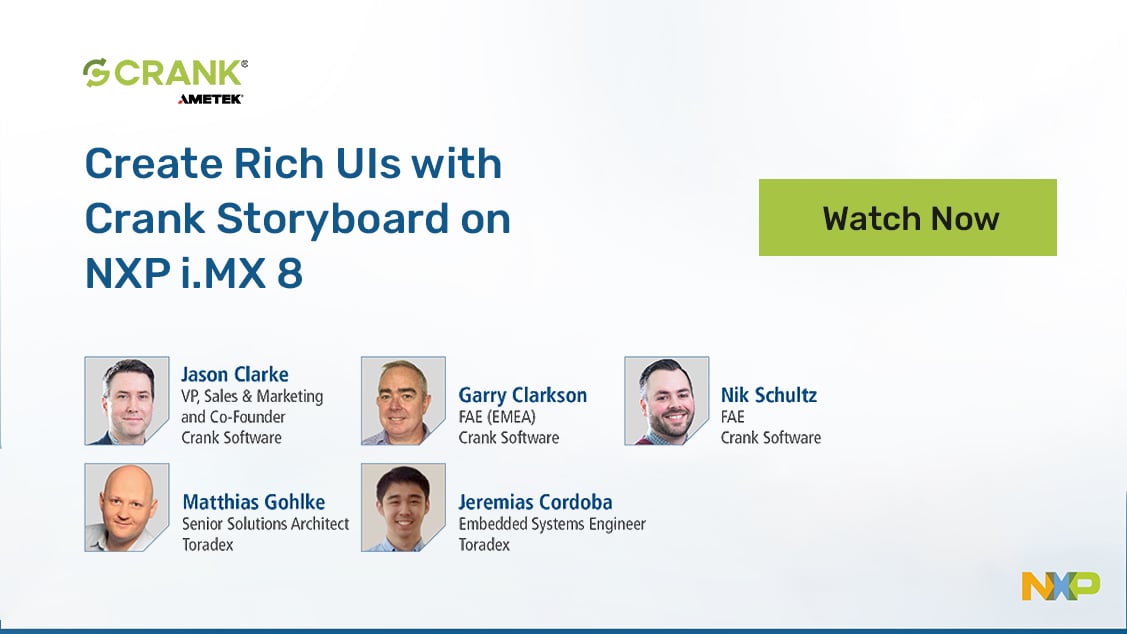 In this webinar, see how Crank's designer-developer parallel workflow accelerates the development process by up to 50% while retaining initial design vision with maximum performance. Watch a live demo of the installation process and how to build an animated, 2D or 3D GUI from Photoshop to target device in 5 minutes or less.
Now Crank has added support for the new Toradex easy-to-use industrial Linux platform Torizon. Supporting Toradex System on Modules based on the i.MX 6, i.MX 7 and i.MX 8.
---
Key takeaways include:
Step-by-step demo to install Storyboard on Toradex SoMs with Torizon, and create your first application
Watch how to deploy and debug directly on end-target, in just a few steps.
Learn about Storyboard and Storyboard Lite scalability options 
Learn about how you can benefit from the Crank Software and Toradex partnership 
Opportunity for live Q&A on licensing, configuration, and technical questions with our engineering panel
---
Presenters:
Session 1:

---

Garry Clarkson

Field Application Engineer (EMEA)
Crank Software

Jason Clarke

VP, Sales & Marketing and Co-Founder
Crank Software

Session 2:

---

Nik Schultz

Field Application Engineer
Crank Software

Jason Clarke

VP, Sales & Marketing and Co-Founder
Crank Software
Watch the on-demand webinar
Featured resources
Storyboard 7.1: Optimizing GUI development for MCUs
Check out our latest features designed to help you build GUI applications for MCUs with less effort.
Sample Storyboard on the i.MX 8M
Download the sample touch screens created in Storyboard for the i.MX 8M.
Building a killer embedded UI
Download this guide to creating high-volume, high-margin goods on MCUs with fancy UIs.