Webinar
Building Your Next Embedded UI on the i.MX RT1060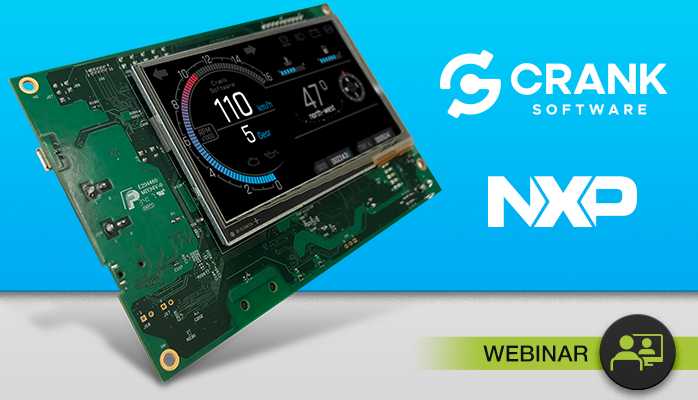 ---
Watch the step-by-step creation of a highly optimized GUI using Storyboard Lite on the NXP i.MX RT1060
---
Consumer preferences have changed, and embedded UI design can no longer be an afterthought. Touch screens must be attractive, intuitive and have the ability to integrate with other smart devices. Along with this they also must provide the best value for money, which usually means a bill of materials (BOM) that is much lower.
Fortunately, if you build your niche-market product from the very beginning with mass-market scalability in mind, you'll be able to move from a high-end MPU to a lower-priced MCU with ease when the time is right for cost-effective, mass-market production.
Join experts from Crank Software and NXP as they demonstrate how you can plan for scalability, by using a toolset that works with MPUs to MCUs to target products at all price points.
Get a sneak peek into the latest release of Storyboard Lite, Crank's popular embedded UI design and development software, purposely built to help embedded teams build optimized GUIs for graphics-enabled MCUs. See how it works in conjunction with NXP's MCUXpresso to quickly create your next, most sophisticated embedded UI, with a demonstration using the i.MX RT1060 evaluation kit.
---
PRESENTERS:
Nik Schultz, Field Application Engineer, Crank Software
Shelby Unger, Software Product Marketer, NXP
Watch the on-demand webinar
Featured resources
Storyboard 7.1: Optimizing GUI development for MCUs
Check out our latest features designed to help you build GUI applications for MCUs with less effort.
Sample Storyboard on the i.MX 8M
Download the sample touch screens created in Storyboard for the i.MX 8M.
Building a killer embedded UI
Download this guide to creating high-volume, high-margin goods on MCUs with fancy UIs.