Webinar
Implementing graphics in real-time industrial HMI systems with i.MX RT10xx MCUs & Crank Storyboard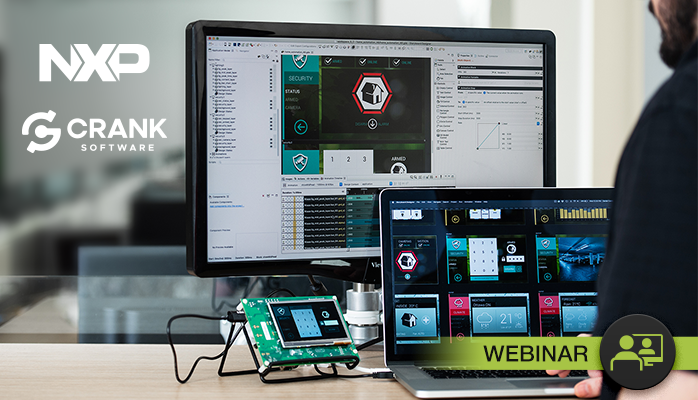 Webinar: 30 minutes
Today's industrial HMI development is all about creating sophisticated user experiences that meet the demanding needs of workplace environments.
Whether modernizing a legacy system or starting from scratch, industrial equipment manufacturers must deliver human-machine interfaces (HMI) that provide a smooth, rich graphical experience that's also safe, reliable, and high-performance.
Leading silicon vendor NXP® Semiconductors and embedded HMI expert Crank Software join forces to discuss how the integration of the Storyboard embedded HMI framework within the MCUXpresso SDK enable brilliant user experiences for today's industrial workloads.
Training outline:
Part 1 | MCUXpresso
Part 2 | Meet Crank Software's Storyboard
Part 3 | Create a GUI in less than 10 minutes demo

How to import files from design software.
How to add behavior in the design file.
How to export these design files into your embedded software platform.

Part 4 | Q&A
During this session, you'll learn:
Details about the NXP MCUXpresso SDK & i.MX RT Crossover MCUs
How to use Storyboard, integrated in MCUXpresso, to create GUIs with faster development times
With the use of Crank Software, you will be able to export your design files, add behaviors to them and export them directly to your embedded hardware.
Featured speakers:
Brendon Slade, MCU Ecosystem Team, NXP Semiconductors
Nik Schultz, Field Application Engineer, Crank Software


Watch the on-demand webinar
Featured resources
Storyboard 7.1: Optimizing GUI development for MCUs
Check out our latest features designed to help you build GUI applications for MCUs with less effort.
Sample Storyboard on your embedded hardware
Download the sample touch screens created in Storyboard for your chosen hardware.
Building a killer embedded UI
Download this guide to creating high-volume, high-margin goods on MCUs with fancy UIs.