Book a private consultation
and discuss your project with our embedded GUI experts at
Embedded World 2023
Headline

HALL 4 / 4-559
NÜRNBERGMESSE EXHIBITION CENTRE
90471 NÜRNBERG, GERMANY
Date

Mar 14 - Mar 16, 2023
Booth

Hall 4 | Booth 4-559
Helping accelerate tomorrow's embedded GUI experiences is what we live for.
As a top embedded GUI design and development partner of global Fortune 500 companies, we would love to talk with you about your next embedded project at Embedded World 2023.
Get a Sneak Peek at Storyboard 8.0
Unleash the potential of your embedded GUIs with Crank's Storyboard and our new automated testing framework, Validator, built specifically for Storyboard!
Join us at booth 4-559 at this year's Embedded World in Germany to get an advanced look at Storyboard 8.0.
Enhanced with a host of new features, Storyboard will make your GUI design and development journey a whole lot easier.
Whether it's a new streamlined workspace experience, the inclusion of a new scripting action type (psst... it's JavaScript), or the introduction of Storyboard Validator - Crank's new automated GUI testing framework, you can expect that Crank and Storyboard can help you effortlessly develop, test, enhance, and deploy exceptional GUI experiences.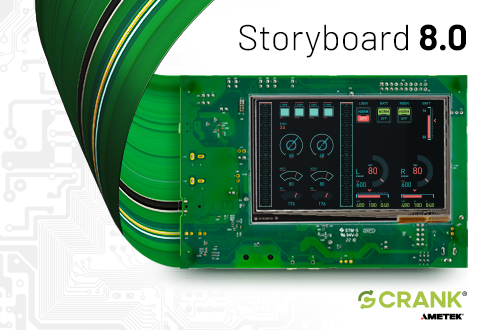 Book a Free Consultation with our Experts in Embedded GUI Development
Learn how Crank and Storyboard can help eliminate your UI/UX development roadblocks and unleash the potential of your product's embedded GUI.
Don't miss this chance to get your questions answered by our embedded GUI experts! Book your spot today.
Can't be there in person?
Not a problem, simply reach out to us to set up a private online session here!
Specialized Demos
Our team of embedded GUI development experts will be showcasing Storyboard-built demos, as well as success stories showcasing our partners' boards like the STM32H7xx, STM32MP1, i.MX RT500, i.MX 8M, Toradex Colibri, and AM62x.
We encourage you to take advantage of this opportunity to schedule a consultation beforehand with one of our experts at Embedded World.
Storyboard Capabilities
In this demo, you'll learn to create High-performance, secure and cost-sensitive, embedded GUI applications using Storyboard.
GUI Scalability
In this demo, you'll learn to develop impressive embedded GUIs that make the most of every kb available to you.
Wearables UX
In this demo, you'll learn how Storyboard has proved to help embedded teams develop sophisticated, power-efficient wearable GUIs that consumers love.
Operating System Flexibility
In this demo, you'll learn how Storyboard, being OS-agnostic, allows you to create your embedded GUI for any OS.
Multi-modal Interactions
In this demo, you'll learn how traditional GUI's can be combined with the modes of interaction to enhance the user experience.
GUI on Resource-constrained devices
In this demo, you'll learn to develop GUI's that provide reliable end-performance on memory restricted MCUs to powerful MPUs
Work with any target hardware.
From fitness trackers to white goods and MCUs to SoMs, Storyboard covers a wide range of markets and hardware vendors. Visit our hardware partner's booths to see Storyboard in action or learn more.
NXP Semiconductors
Hall 4A-222
STMicroelectronics
Hall 4A-148

Texas Instruments
Hall 3A-215
Let's chat about your next project
Medical | Automotive | Appliances & White Goods | Industrial HMI | Smart Home & IoT | Wearables